Episcopal Consecration of Bishop Beverly A. DeShazer-Haywood
Saturday, September 17, 2022 from 11:00 AM to 2:00 PM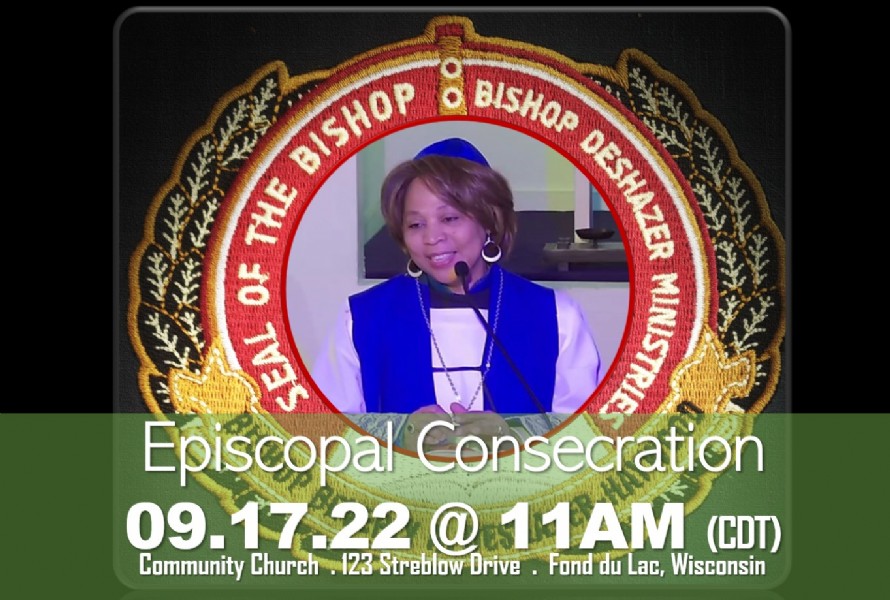 By Order Of the UFCCM Ecumenical Patriarch, His Eminence, Bishop Henry A. Tindal, Sr.; the Episcopal Consecration and Investiture of Bishop Beverly A. DeShazer-Haywood has been set for 11:00 AM Saturday morning September 17th., 2022. The UFCCM Episcopal Board Of Bishops, The Sacred College Of Bishops, Affililtes, Family and Friends shall convene upon Fond du Lac Wisconsin for this Solemn and Sacred Celebration. Official (EP) Annoucement and more to Come...
For more detailed information, please Also Click: Local Church Website Announcement
3-WAYS TO ATTEND:
1. Click Here to Attend Physically In Person (If you will be traveling to Fond du Lac, WI.)
2. Click Here to Attend in Hybrid Virtual Environment (You may have the option be included on camera and participate as if you where actually there)
3. Click Here to Attend in Hybrid Virtual Environment as a "Viewing Guest Only" to interact with others.
Note: You will also be able to watch LIVE on the UFCCM Website, the UFCCM Facebook Page and the UFCCM Youtube Channel(s) and Call In by phone to "Listen Only" on the UFCCM Internet Radio Station. Also will be LIVE Streaming on the Bread Of Life Cathedral Of Hope Platforms. Please return on September 12th for active social platform links.
Event Location
Community Church • N6717 Streblow Dr. • Fond du Lac, WI 54937 • US
Contact Information
Contact: Overseer David C. Allmann, Sr.
Phone: 888-990-4285 Ext 105
E-mail: